Using Mapwel with GPSmap 276C
Default settings of this GPS units may cause that custom map uploaded from Mapwel software is not visible.
First of all, check the firmware version of your 276C. It should be 5.2 or higher. If you have older firmware, upgrade it with use of upgrader on the official Garmin web site.
To make map visible, please follow these steps:
Make sure that the memory card is plugged into the GPS. Upload custom map from Mapwel to the GPS. Then use MENU button on the GPS to access this menu: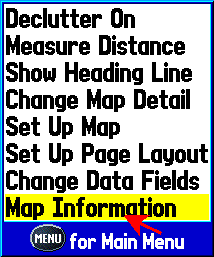 Select Map Information

If check box for Mapwel map is clear, check it. Quit the settings page (QUIT button). Now use MENU button again.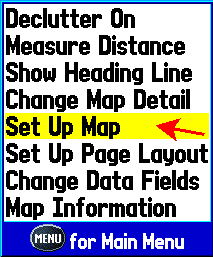 Select Set Up Map.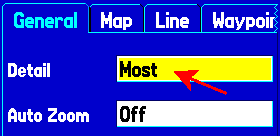 Set Detail to Most. Also, make sure that Map Outlines option on the next tab (Map) is turned on.
This procedure should make your custom map visible on the GPSmap 276C. If problem with visibility persists, please read further tips in the FAQ - Troubleshooting chapter.